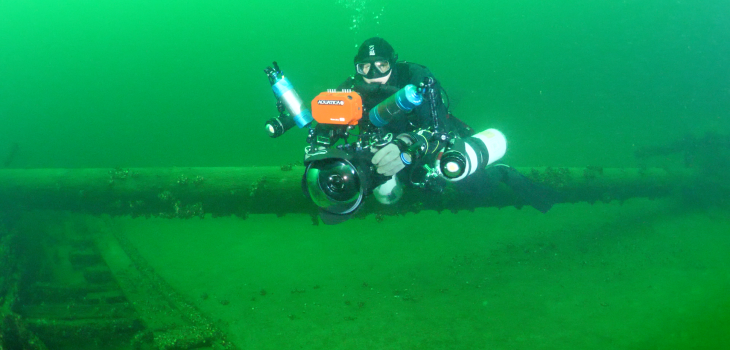 August 5, 2023
Cover Photo: Jill Heinerth holding camera
There are photographers and models and rarely are the roles reversed. As I am sure many of you can relate, when I look back at our family photos, I can see how my mother, brother and I enjoyed the experiences, but it is hard to find a single photo of my father. He was our designated photographer of the family and as such rarely appears in any photos.
The same holds true for many expeditions. In our team, Jill's photography work is world renowned and her equipment is the best that is available. This has naturally put her as the lead photographer in our group.
With Charlotte unable to dive this weekend, I changed the goals of the dive to focus on capturing photos of Jill in action documenting the wreck and proving that SHE WAS HERE!
It wasn't easy to convince Jill to stop shooting and turn off her lights so that I could capture a photo of her next to the ships wheel.