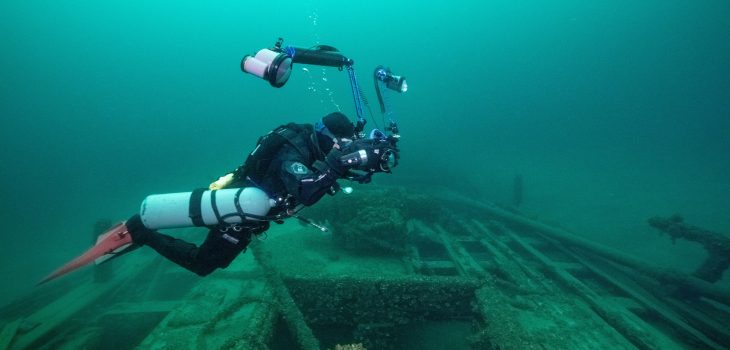 June 18, 2023
Cover Photo: Kayla Documenting Artifacts
Since the Fabulous Four discovered it, a small select group of divers have explored this wreck over the years for their own enjoyment but have never documented the condition and artifacts. As the first true archaeology expedition since its initial discovery, this survey work is very important; when we document a shipwreck, it gives us a snapshot in time and an inventory of the significant assets. When those assets are catalogued and shared with the public, the social pressures of protection are shifted to the whole diving community. This assists in protecting Canada's extraordinary marine heritage for generations to come.
With Charlotte being unavailable this day, our goals were for me to catalogue the artifacts that are present on the wreck while Jill would film action shots of this phase of our expedition. Let me share with you a small selection of some of the key elements that make up a three masted Great Lake's schooner.
We started our cataloging at the bow. While I was focused on the windlass and chain locker, Jill was able to capture an outstanding photo of the bowsprit and hanging anchors.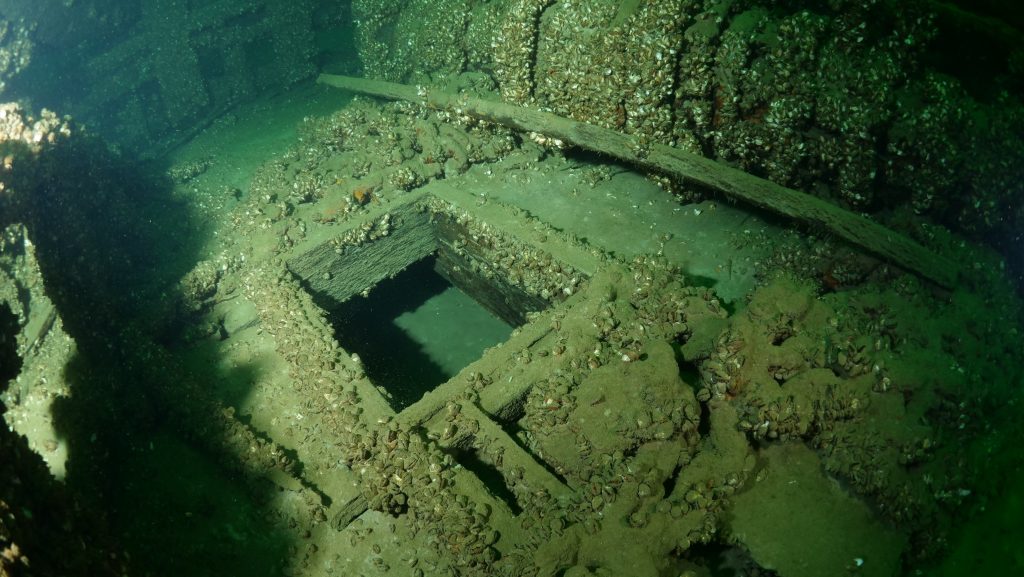 One of most noticeable features of the wreck is a massive donkey boiler standing over three meters tall positioned just aft of the fallen foremast on the port side. Lying just in front of it is an ash bucket that would have been used to pull the spent hot ashes out of the boiler while safely preventing them from coming in contact with the wooden deck. Conveniently positioned between the boiler and port side rail is a coal bin that would have held fresh fuel to stoke the boiler.
While I slowly swam along the 30 meters of foremast to reach the crow's nest, I recalled the series of tragic events that led to the collision. Had the lookout not left his post from the very spot I am looking at, the Oliver Mowat may have continued her career and would eventually be dismantled and we would never have the opportunity to explore her.